Mobile Madhouse presents: our top ten Android games!
- 07 June 2012
One of the greatest innovations in the realm of Smartphones was the genesis of the application store. By outsourcing the production of fun little programs and games to third party developers, companies like Apple (with their iOS) and Google (with Android) created an ideal, symbiotic situation: third party developers do the legwork, the Smartphone marketplace opens them up to a global audience, and consumers get cheap, high-quality programs! It's a win-win-win situation. And in honour of this savvy business decision, the Mobile Madhouse team has looked over our ten favourite Android games. The following list is the result – enjoy!  
10 – Gunman Clive
Gunman Clive is a throwback to an earlier era of games – the eighties side-scrolling shoot-'em-up. The plot is simple: you're a cowboy, sent to rescue the mayor's daughter from bandits. But like its spiritual predecessors – games like Mega Man and Contra – the plot is secondary to the action. And while it may lack the raw, testosterone-fuelled aggression of classics like Contra, it makes up for it with a minimalistic, stylized art style and elegant, fluid character models.
The controls are simple and intuitive – a directional pad sits on the left hand side of the screen, while the jump and shoot buttons rest on the right. The level design is uniformly superb, and the bosses – massive behemoths, compared to your skinny cowboy – are challenging in all the right ways. In short, it's a thoroughly enjoyable shoot-'em-up: not particularly deep, perhaps, but capable of sucking up your lunchtime without you even noticing. The only real issue is the difficulty curve, which is fairly steep for the majority of casual gamers. But if you were weaned on the type of games which inspired Gunman Clive, you've probably come to expect some real challenge from your shooters anyway!
9 – Pocket Minecraft
Most gamers will have heard of Minecraft by now. Launched by Swedish developer Markus "Notch" Persson in 2009, it attained incredible success while still in Beta, with rave reviews, hundreds of thousands of downloads, and such rapid development that Persson was forced to throw together an impromptu game company, Mojang, to deal with it all. Though it wasn't given full release until late 2011, the amount of goodwill its close-knit community had engendered led to literally millions of sales just a few short months after release, making it one of the most popular online single-player games of all time.
So it was a no-brainer for Mojang to develop versions for the iOS and Android operating systems. Due to system limitations, Pocket Minecraft is considerable more stripped down than its parent; the world space is massively smaller (only 255 x 255 blocks), it lacks the varied biomes that makes exploration so unique, the sky is not visible, you cannot set your spawn point after death, and online mode only permits a maximum of five players. But it's still Minecraft – still the open-world, sandbox gaming experience that permits incredible feats of architecture… even if a fair degree of the exploration has been pared down. Nevertheless, it's still worth paying the modest price tag for, no matter how "baseline" this experience may be compared to the original and uncut edition. If nothing else, it might inspire you to buy the P.C version, to find out what you're missing!
8 – Doodle Jump
This is one of the simpler and cutesier titles that we reviewed. As in most other endurance platform titles, the goal is to scale up a vertical shaft, while avoiding the hazards, obstacles and pitfalls that could cause harm to your harmless little doodle avatar. Despite its simplicity, the game enjoyed millions of downloads after its initial release in 2009, due to its intuitive control system and uniquely cartoony character designs.
The control system is incredibly simple; tilt the screen to alter the direction in which the titular Doodler will leap, and tap the screen to shoot a projectile from his mouth. With that said, the variety of different enemies, unique power-ups and reskins gives the game a huge amount of replayability, and its very simplicity means that you just want to play it again and again. It's the kind of game that eats up hours of your time without you even realizing!
7 – World of Goo
World of Goo, like Doodle Jump, is a game that initially earned its stripes in the iOS app store, before the inevitable Android port was announced. Unlike Doodle Jump, however, which is a simplistic platform game with cutesy graphics, World of Goo is an altogether deeper experience. The art style is significantly more subdued, and the plot considerably stranger than "leap upwards". The goal of World of Goo is to construct buildings out of the titular goo-balls – childlike little blobs with cartoonishly oversized eyes – to help them and their friends reach the exit pipe at the end of each stage.
Though the concept sounds deceptively simple, the often bewildering plot, coupled with the surprisingly challenging difficulty curve, ensures that World of Goo is anything but a walk in the park. Goo balls are subject to the whims of gravity, and can easily fall into spike pits or down bottomless chasms; there's nothing more frustrating than building up an impressively complex tower of goo, only to find it caves in on itself just short of the exit due to a lack of structural integrity. But the challenge is what really makes World of Goo such a fun and engrossing game – and it's hard to deny that it's a lot deeper than its competitors. Interestingly, there's a additional pre-packaged mode in the game called "World of Goo Corporation" (the monolithic entity which serves as the
de facto
villain over the course of the single player game). When you collect more goo's than are required to finish a level, the excess are piped directly to this level. The goal is to amass as many as possible and begin building a huge goo tower. The game actively tracks the height of other player's towers, representing their peaks as clouds which bear the name and nationality of the player in question, as well as the height of the tower and the number of goo balls used in its construction. This "multiplayer" mode is a welcome addition to the game – if only as a way of showing off to your friends.
6 – Flick Golf
We're going back to basics with this one. Flick Golf is exactly what it sounds like: as a golf simulator with a touchscreen input, the natural hand gesture to tee off is a flick. Though the controls are as simple and intuitive as they come, and there's a deficit of different game modes to choose from, the breathtaking graphics and engrossing obstacles (including the in-game wind, which has a nasty habit of blowing your best-planned shots off course) ensures that your interest will be retained over time.
In addition to the visuals, Flick Golf – uniquely amongst budget golf simulators – isn't just about how hard you can hammer the ball; by altering your finger movements only slightly, you can influence the ball's flight path and destination. You can even fine-tune the flight path in mid air by swiping the screen with your finger, permitting an unparalleled degree of control over its ultimate location. This, coupled with the game's natural difficulty, means you might clench your teeth when you fail to get the coveted hole-in-one… but you'll still come back again to try for more!
5 – Fruit Ninja
Another simple offering, with another simple input interface: this time, though, a slash instead of a flick. In Fruit Ninja, you play the role of a ninja – one who is apparently training under a Mr Miyagi-style sensei who is obsessed with chopping up fruit, instead of "wax on, wax off". Consequently, it's your job to take up his sword (in the form of your index finger) and swipe it across the screen to chop up a variety of fruit. But to spice things up, the occasional bomb is thrown into the mix; as you can imagine, trying to chop up a bomb is
not
recommended.
And that's pretty much all there is to it. Fortunately, though, there's enough replayability to stop the game becoming dull: there are achievements to unlock (permitting different background designs and different coloured sword strokes) and different modes to play (arcade mode has great replayability due to its power-ups, classic mode can be played endlessly until you "die", and Zen mode functions essentially as a time attack; 90 seconds to get as high a score as possible). And to be honest, there's just something viscerally satisfying about slicing a banana cleanly down the middle with a mere sweep of your hand.
4 – Osmos HD
This is my own personal favourite from the selection. Osmos has a deceptively simple concept: you're a…
thingy
floating through space, surrounded by other…
thingy's
. (Anomalies? Planetoids? There's probably a better appellation I'm not thinking of.) To succeed, you must propel yourself into other, smaller
objects
(there we go!), which causes you to consume them; but if you are propelled into a larger object, you are at danger of being consumed yourself. So you must build up your mass until you're the largest thing on-screen (though some levels have an auxiliary win condition, such as "devour this 'boss'"), to ensure your dominance.
But there's a delicate balancing act to be found, because the only way to move yourself in Osmos is by ejecting your own mass behind you to build up momentum. This means that in order to propel yourself over to potential food, you have to become smaller to do it – meaning that meals only slightly smaller than yourself can rapidly become menacing predators, if you're not careful. And that doesn't mention the other dangers to be found – like gravity pulling you towards a lethal star, or drifting off the edge of the map, or even having a huge proportion of yourself sucked away by dark matter, leaving your deflated, osmotic avatar practically defenceless. So Osmos can be a challenging game, despite its simple concept. Yet the challenge is, often, what makes it so fun to play; and unlike many other correspondingly challenging games, which can be stressful to play, the trippy colours and relaxed, instrumental electronic music of Osmos means that even the most frustrating moments are muted compared to, say, Dead Space. It's the kind of game that's perfect for hunkering down with in your bed in winter – soothing, relaxing… even comforting, in a strange way. I'd give you two pieces of advice if you're considering buying it, though: first, use headphones to get the full impact of the superb musical score; and second, make sure you play it on a tablet – playing it on a mobile (even a large-screen Smartphone) often feels like an exercise in frustration. And not the good, trippy kind, either!
3 – Riptide GP
Riptide GP is a Smartphone game that demonstrates just how far we've come, technologically, in mere decades. It boasts the kind of graphics that would've been impressive on a home gaming console in the early 2000s, with water effects that look stunning even by today's lofty standards. If you're playing on a recent device (especially a tablet with any kind of clout), you're virtually guaranteed to be blown away by the attention to detail the developer's put into the graphics. You could almost believe you were there.
With that said, the game is not without flaws. Though ostensibly a racing/stunt game, the tracks are all fairly similar, which means there's no real difficulty curve to speak of. The stunts you can perform don't add to your score (in fact, you don't have a score at all), though they do replenish your turbo charger, which can lend you the edge in some of the tougher races. There's not much variation in vehicles (and not very many vehicles to choose from), the music can become irritating, and the lack of variation in controls means that people unused to tilt input (this guy!) will have to grit their teeth and just get on with it, if they want to play. It remains a fun game and capable of eating up an hour or two at a stretch – but make no mistake, it's a lunchtime quickie with little depth to fall back on.
2 – Rebuild
Zombies are increasingly coming into their own as a genre. From their humble beginnings, shambling about the background of Romero's
Night of the Living Dead
and lurching, ungainly, through the backwoods legends of voodoo in the Deep South and Africa, they've become a cultural phenomenon
eclipse
d only by the recent trend towards vampires. So it's no surprise that there's been a corresponding boom in zombie-related gaming experiences; what
is
a little surprising, though, is Rebuild: a zombie-themed strategy/resource management game.
The plot is simple – the zombie apocalypse has occurred, and it's your job to fortify your city of choice and render it zombie proof. It's a deceptively simple concept, because in execution, Rebuild can sometimes be fiendishly tricky, especially on a higher difficulty setting. Managing your resources and available space is a real juggling act; if you don't have enough farms in your city, for example, people will begin to starve. Unusually for a strategy game, Rebuild is extremely slow-paced; the emphasis is largely on the resource management, rather than risk assessment (though there is still some of that – it's always nail-biting to send citizens on an expedition into a zombie-infested building to try and find resources). With that said, it's an extremely addictive little game, largely due to the fact that its intuitive gameplay allows it to be picked up and put back down again at a whim – yet also be suited to marathon, all-night play sessions.
1 – Cut the Rope
Currently peaking as the number one (paid chart) game in the Android application store, Cut the Rope has achieved renown as the most addictive lunchtime game you're likely to find outside of the ubiquitous Angry Birds. The object of the game is simple: a piece of candy is suspended on a rope (or multiple ropes!) in each level, and it's your job to guide it into the mouth of the cute little mascot character, Om Nom, by slicing the ropes with your finger in the correct way. If you manage to collect stars on the way down (there are three in each level), you get a higher score and can unlock new levels as the game progresses.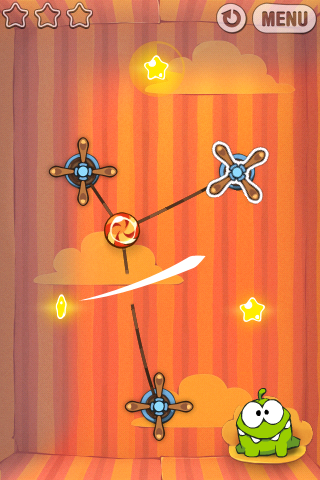 Though this may seem like a fairly simple concept, there are new obstacles to face (and objects to utilize) in each level pack, ensuring that no two levels have the same solution – whether you're using bubbles to propel the candy upwards or manipulating a devious and dangerous spider, to swing it back and forth on a string, there's an endless permutation of different head-scratchers to be found, ensuring excellent replayability for your investment. Fortunately though, despite the occasional difficult level, the intuitive controls and detailed, well-written instructions never leave you feeling overwhelmed; Cut the Rope is the perfect combo platter of challenge and fun.
Comments (0)
View/Leave Comments