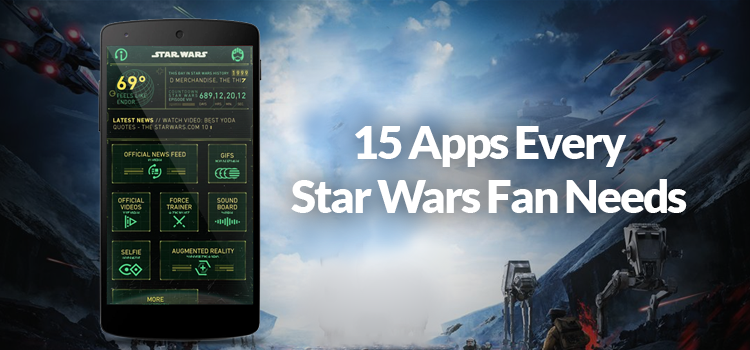 Christmas is only the second best thing in December.
Star Wars is where it's at.
Episode VII: The Force Awakens finally hits cinemas on December 17, ending years of anticipation and months of us all rerunning official teasers and trailers.
With Star Wars fever is full swing, this year's festive period is likely going to be all about you running around in your Chewbacca onesie, while opening Stars Wars wrapped Star Wars gifts and slicing turkey with your Lightsaber. If you're anything like us, you'll also be looking towards your smartphone or tablet for your force fix. In which case, you had better make some space available on your device, because here are 15 apps you don't want to be without.
1. Star Wars – Free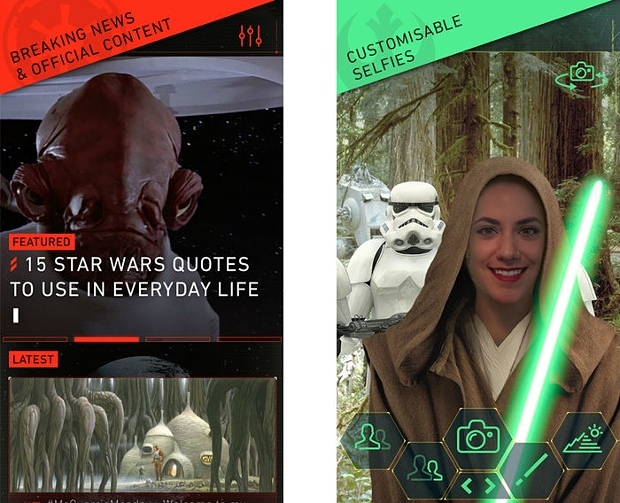 'All Star Wars, all the time, anywhere.' You're already sold, right? The official Disney and Lucasfilm Star Wars app is a hub for everything Star Wars related. It pulls in all the latest news from media outlets and social media, tests your knowledge, lets you share GIFs with friends and customise the app according to your allegiance – light side, dark side or droids. There's also a couple of augmented reality features: a virtual BB-8 and Stormtrooper scanner and a Force-Trailer game that turns your device into a lightsaber. And, of course, no official app worth its stripes can be without customisable selfies. If you've ever wondered what you'd look like as Princess Leia, Obi-Wan or a fighter pilot, the filters to find out are right here.
2. Star Wars: Knights of the Old Republic - £7.99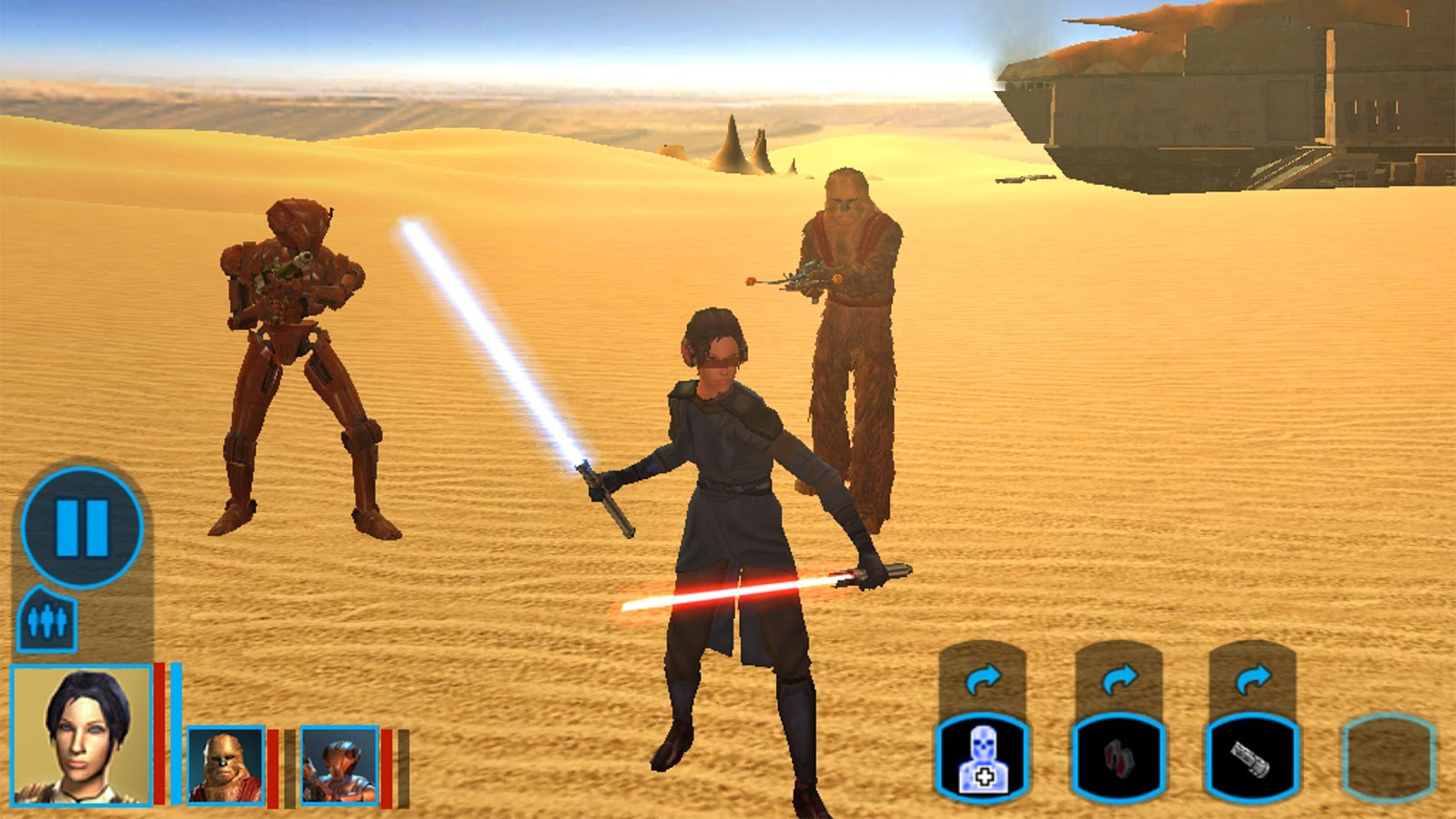 £7.99 is a lot to shell out for an app, so what do you get for your cash? You get a game that's widely regarded as the best franchise release of the lot – and there are a lot. A mobile version of 2003's console and PC game, this RPG has enough depth to keep you engrossed until well after The Force Awakens has left the big screen and been released on Blu-Ray. Set four thousand years before the Galactic Empire, in a galaxy where the Sith is hunting Jedi Knights, this game feels like a movie-worthy saga instalment, with a plot and killer twist that wouldn't be out of place at an IMAX. Knights of the Old Republic is best enjoyed on a tablet and, at 2.44GB, is quite hefty in size, so you'll need to free up some serious space.
3. Wikia: Star Wars – Free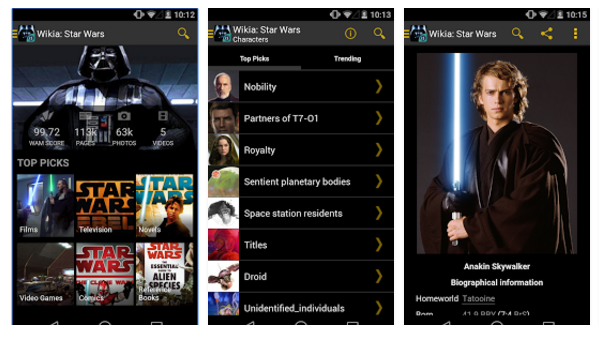 There are guides to Star Wars, and then there are guides to Star Wars. Wikia is the superfan's guide. It's created by fans and regularly updated with highly accurate information from Wikia's huge fan community. Users can read in-depth articles on comics, books, characters, battles, locations, movies and loads more, all from a clean, user-friendly interface. There's also a vast library of videos to get your teeth into. And, if you're thirsty for even more knowledge, you can join the community and request it! If Britannica created a special Star Wars edition…it would fail miserably, because it couldn't compete with this.
4. Star Wars Rebels: Missions – Free with in-app purchases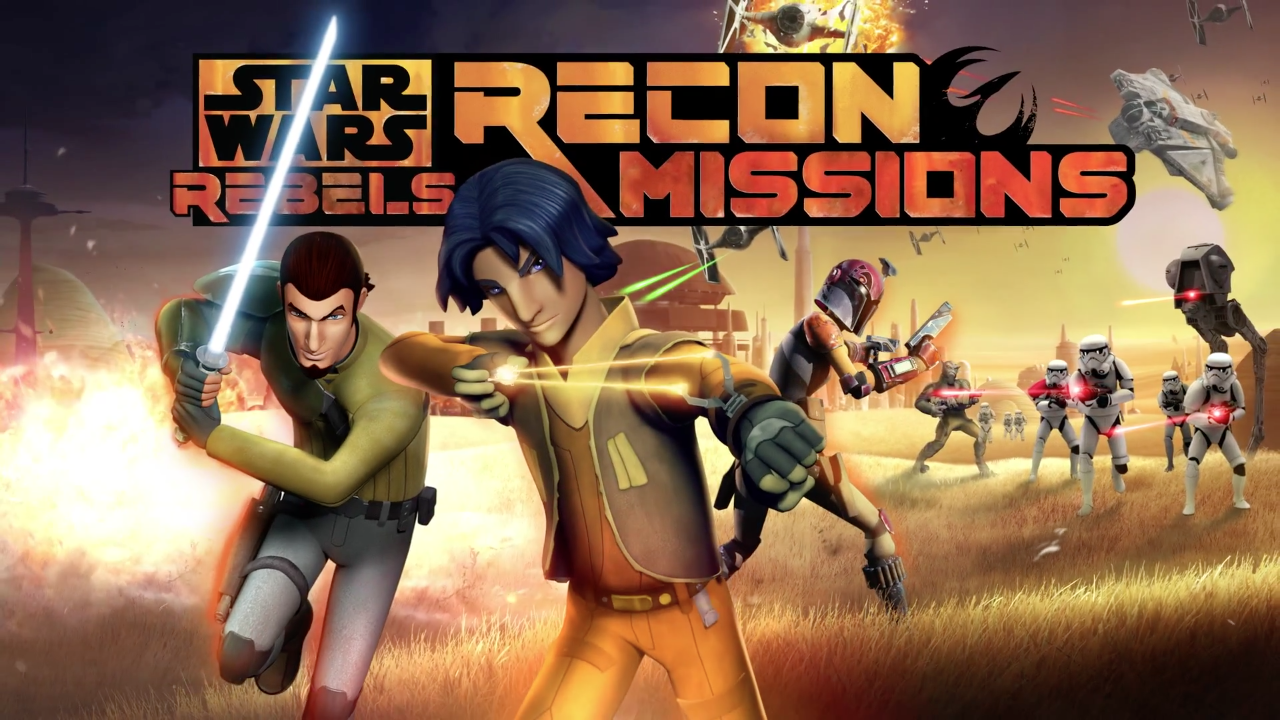 Another Disney offering, this time based on the popular TV show of the same name, Star Wars Rebels pits you – the intergalactic hero – against the evil of the Empire, across multiple missions with the aim of saving the citizens of Lothal from pesky bad guys. The free version of this platform game gives you six levels of action that can be negotiated as Padawan Ezra. In-app purchases unlock 30 additional levels and a host of new Rebel characters including Kanan, Ahsoka, Zeb, Chopper, Hera and Sabine. It would be nice to have the extra characters as free unlockables, but that's only a minor grumble in what is a very enjoyable game!
5. Angry Birds Star Wars II – Free with in-app purchases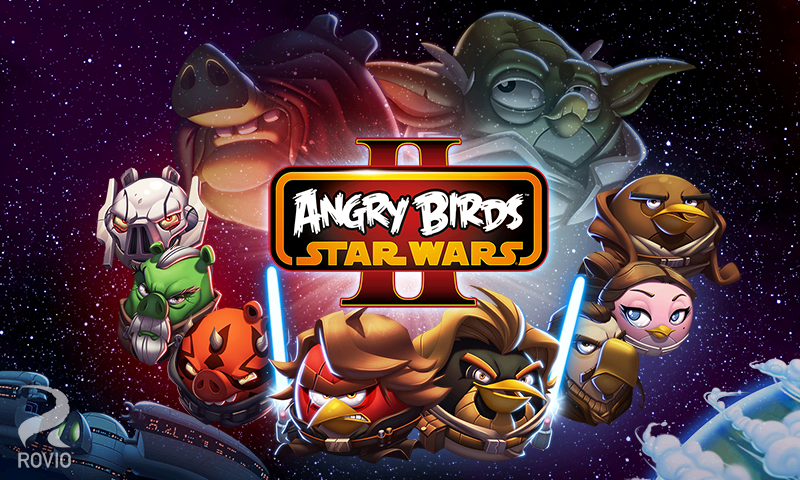 Remember five years ago when you played Angry Birds to death? Prepare to fall back in love with destroying pigs! Yes, Angry Birds Star Wars II involves more of the same old bird slinging, but this time you'll be doing it as Anakin, Yoda and 30 more of your favourite characters, using specific skills to take down various members of the dark side. Levels are based on the three Star Wars prequels and get increasingly more difficult as you progress, offering some great little Star Wars universe touches. Oh, and there's a Jar Jar Binks bird. Yeah, that's sealed the deal.
6. LEGO Star Wars: The Complete Saga – Free with in-app purchases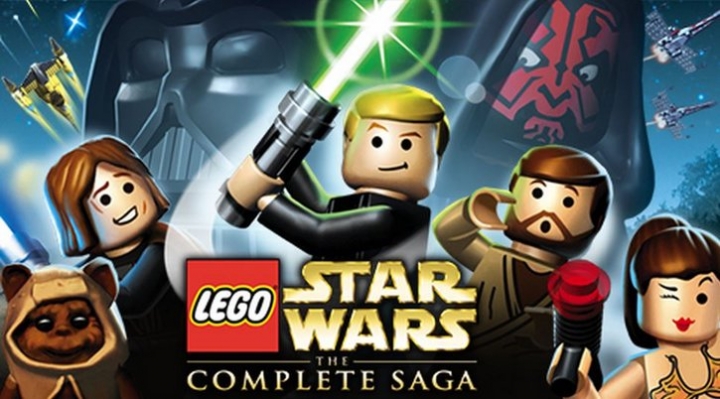 Aimed at kids, but pretty darn enjoyable for adults too, LEGO Star Wars: The Complete Saga covers all six games, allowing you to take charge of your favourite characters in blocky form and navigate through various missions. LEGO has done a great job with the Star Wars franchise across consoles and mobile and there's plenty to enjoy here. Story Mode and Free Play feature gentle action with some nice puzzle content that more seasoned gamers can get their teeth into. Only Episode 1 is available on the free version, so make sure you have your app store account details at the ready.
7. Star Wars: Scene Maker – Free with in-app purchases
Another one aimed at youngsters, this creative app sees you playing puppet master – creating scenes from the movies with your own voice over. All your favourite characters are here and there's a good selection of scenery packs, most of which, however, are available as in-app purchases. To give creations that true cinematic vibe, Disney has also included the end credits. While this game is enjoyable on any iOS device, the large screen of the iPad offers the most rewarding experience.
8. Force Saber of Light – Free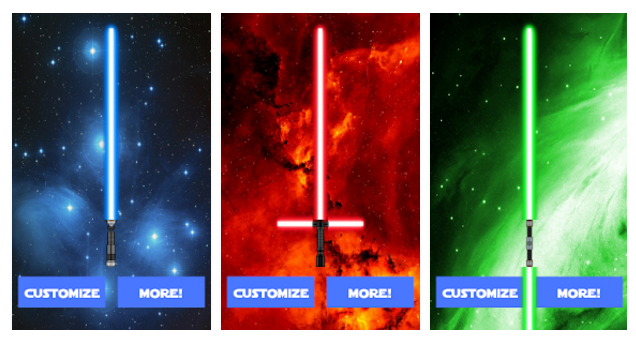 It goes without saying that we all want a lightsaber for Christmas, but the cruel fact is...not all of us are going to get one. Force of Saber Light is the next best thing. Featuring a huge selection of customisable Lightsabers, you'll be ready for a battle to the death in seconds, rendering nobody safe – not your spouse, kids, siblings, pets, nobody. Your weapon of choice will even make noises as you battle, with the option to upload and play your music to ramp up the tension even further. There are currently 12 hilts to choose from (including the dual-blade), with more promised soon!
9. Star Wars: Uprising - Free with in-app purchases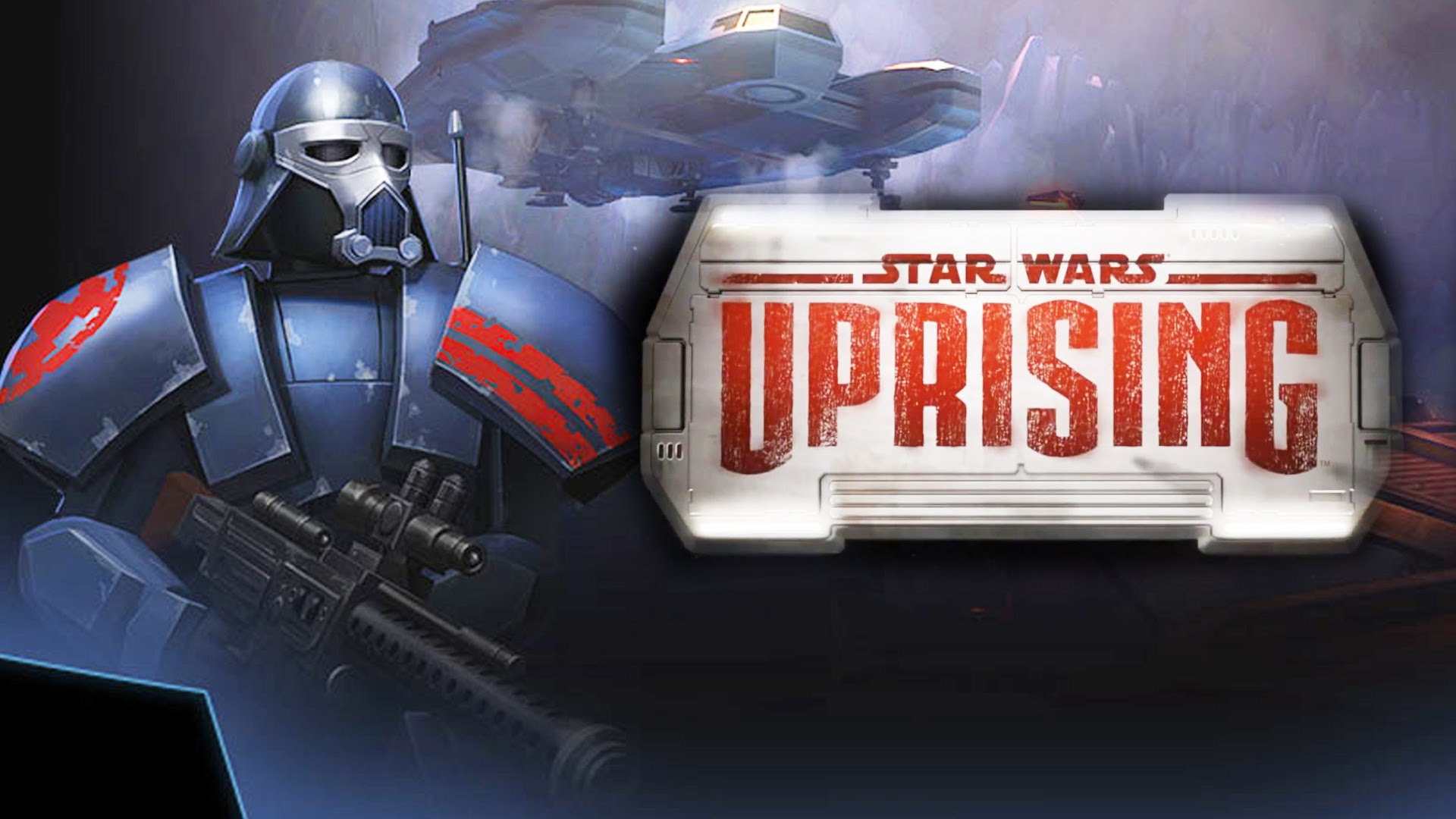 Not quite on the level of KOTOR, but an enjoyable RPG nonetheless, Star Wars: Uprising is the newest Star Wars game on the market and one that combines rich solo play with online co-operative missions. Made by Kabam – which has a track record of turning movies into enjoyable mobile games – Uprising fills the gap between Episode VI: Return of the Jedi and The Force Awakens, pitting you in fight against you know who. The game lets you create your own character to be the hero the galaxy needs, play in new and classic worlds and team up with the online community to dictate the expansion of new content. Be warned, however, free though it may be, in-app purchases can soon mount up, with top items costing as much as £79.99.  
10. Star Wars: Commander – Worlds in Conflict – Free with in-app purchases
iOS / Android / Windows Phone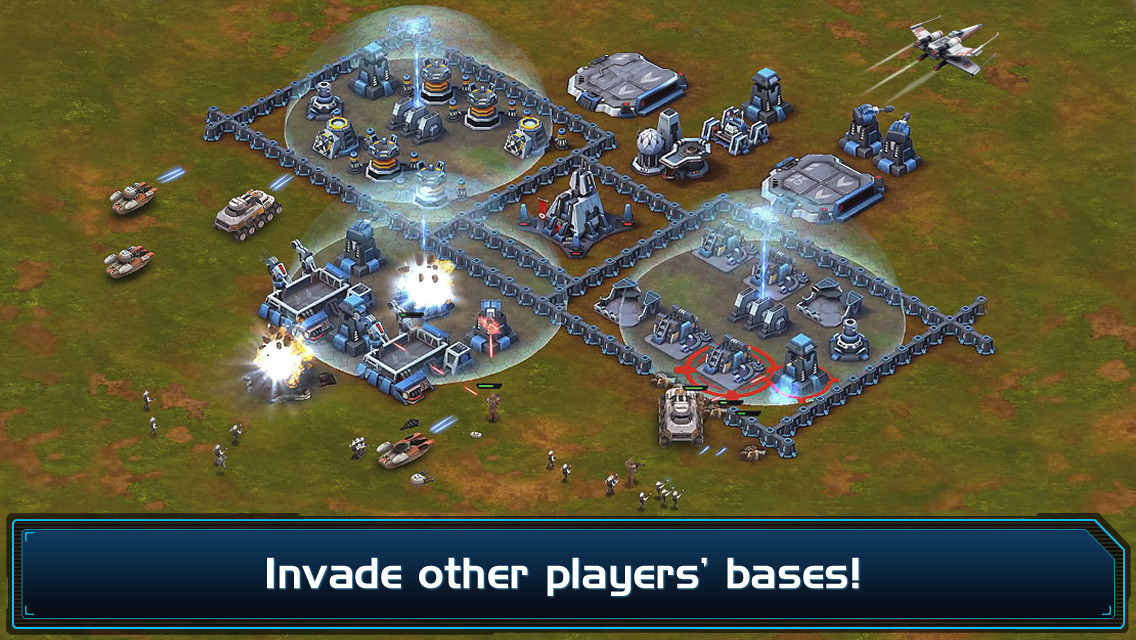 Windows Phone has been appallingly represented in this list; largely because app developers aren't interested in tailoring apps for the platform. There is one decent game out there, though. Star Wars: Commander – Worlds in Conflict is, quite simply, a rip-off of Clash of Clans. But that's not a bad thing. Clans is a great game and a Star Wars skinned version is a welcome addition to any smartphone or tablet. Simple base-building, strategic thinking and the opportunity to team up with friends and allies, all wrapped up in a Star Wars package, makes for enjoyable stuff.
11. BB-8 App-Enabled Droid – Free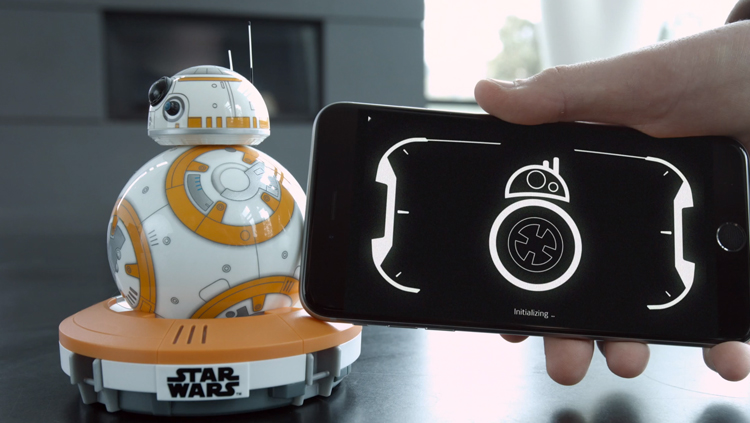 Designed by Sphero, this app is brilliant and comes highly recommended by not just us, but anyone that's managed to get to grips with it. There is one very sizeable downside, though: you'll need to part with £130 to purchase Sphero's BB-8 drone... or add it to your Christmas list. Fortunately, the app is free and offers hours of fun, controlling the droid's movements via Bluetooth and showing off a range of expressions. He'll even react to collisions. And, as no droid is complete without holographic messaging, the app lets you record videos that can be transformed into virtual holograms. It's every bit as cool as it sounds.
12. Star Wars Pinball 3 - £1.49 (£1.57 on Google Play)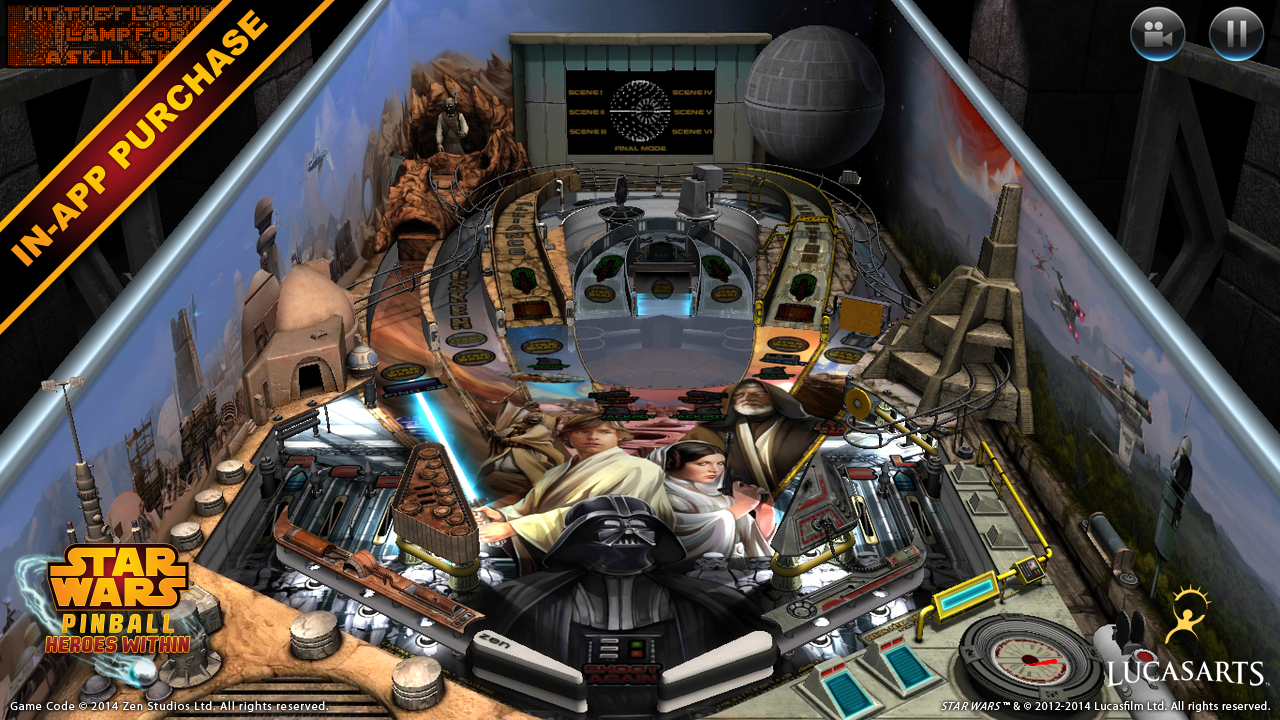 Typically, the idea of virtual pinball is not an enthralling one – there have been too many poor attempts at recreating the magic of a real table over the years. Fortunately for Star Wars Pinball 3, it's been created by Zen – a developer that has made a living from producing jaw-dropping physics and creating games that take you back to the dingy arcades you used to frequent in your youth. Immerse yourself in some of the greatest movie moments and characters as you set out to support the Galactic Empire or Rebel Alliance, using your pinball skills to earn points for your chosen side in solo or community competition. There's even movie dialogue to help add to the cinematic experience.
13. Star Wars Journeys: Beginnings – Free with in-app purchases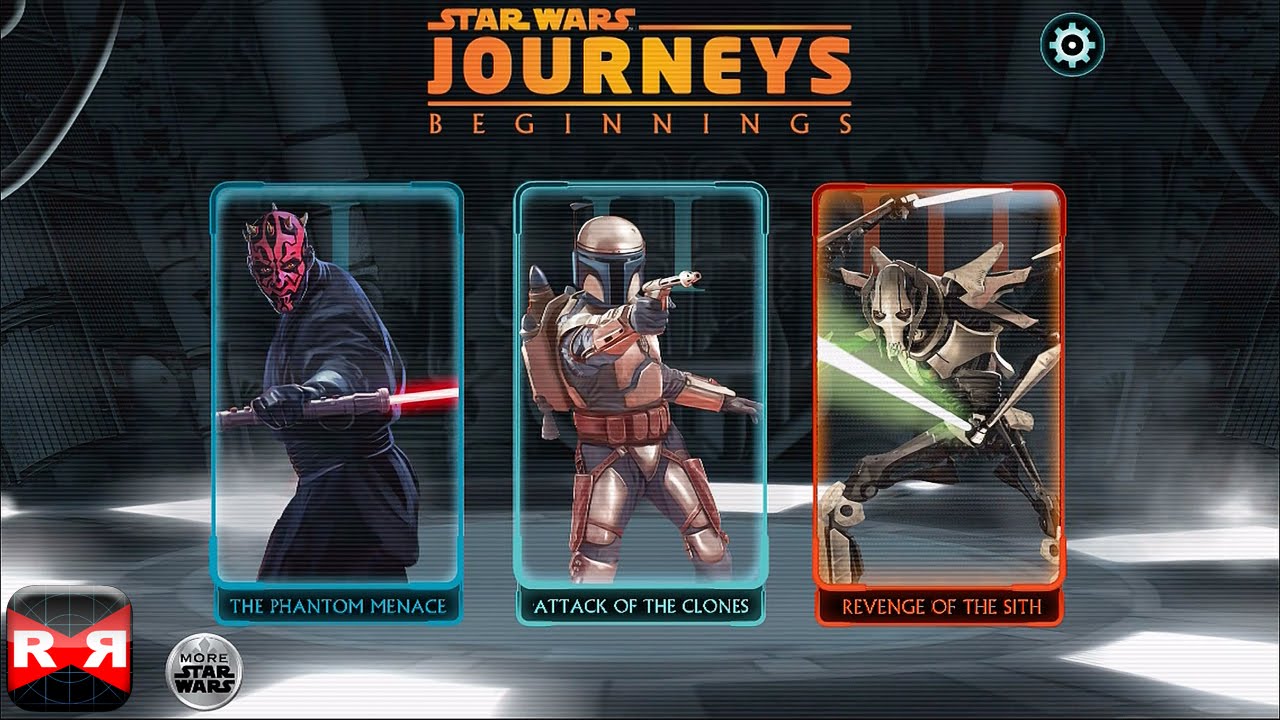 This app is a based across the three prequel movies, mixing storytelling with gameplay. It's mostly aim at kids, but there's a lot for parents to get stuck into – arena battles and pod racings being particularly fun. There are upgrades for customising pods that can be purchased from respective app stores, as well 20 collectable profiles to unlock in each chapter, resulting in hours of entertainment.
14. Star Wars: Card Trader – Free with in app purchases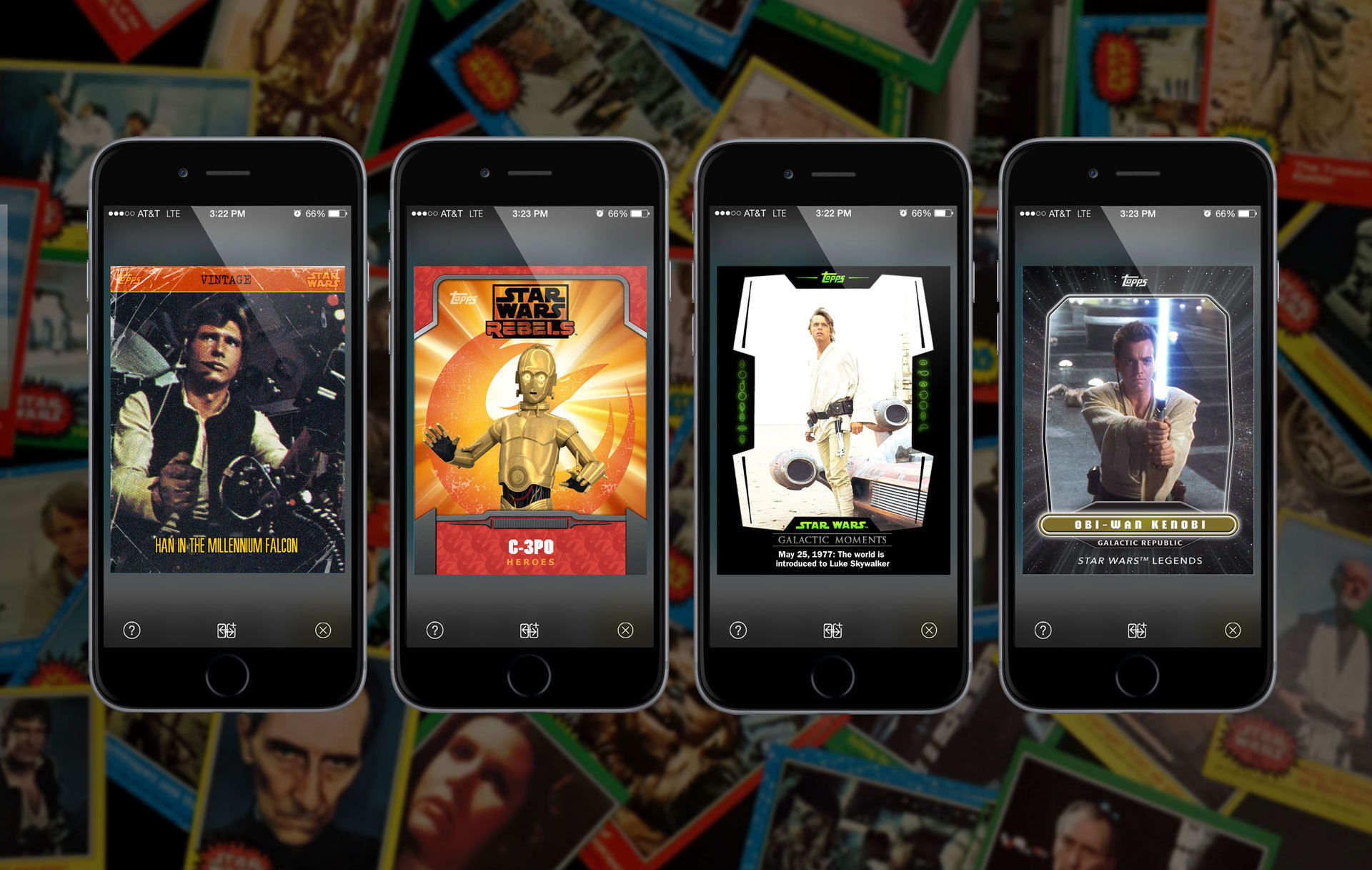 Star Wars: Card Trader is a virtual trading card app. Where's the fun in that you ask? Well, there is no need for elastic bands and no risk of the dog chewing up your cards for a start. But those are not the main reasons this app is so good. Its biggest selling point is the fact that there is access to thousands of Topps cards dating back to the original collections of the 1970s. There are characters, vehicles, locations and loads more to collect, with 24/7 access to a worldwide community at your fingertips for arranging trades and discussing the intricacies of the movies. New cards are released every day, some of which can be open for free, meaning the excitement never wains.
15. Darth Vader Voice Changer DTVC – Free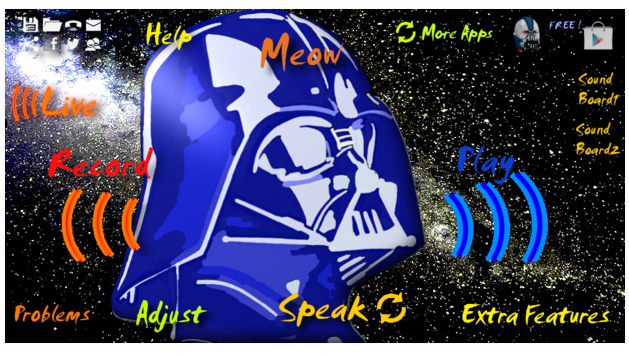 Star Wars fan or not, everyone enjoys putting forward their best Darth Vader impression – some with more success than others. If you really want to sound like the Sith Lord, you need this app. Simply talk into your phone, record your diction and watch in amazement as it morphs your voice into a baritone, heavy breathing old man. You can then use your recordings as ringtones and share via email and Skype, meaning you'll never have to interact with contacts in your normal voice again.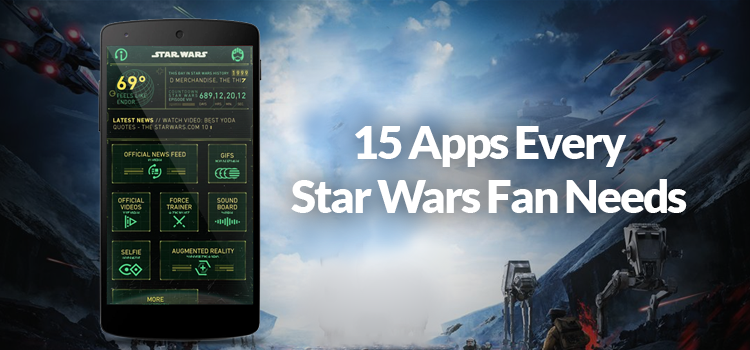 Christmas is only the second best thing in December.
Star Wars is where it's at.
Episode VII: The Force Awakens finally hits cinemas on December 17, ending years of anticipation and months of us all rerunning official teasers and trailers.
With Star Wars fever is full swing, this year's f