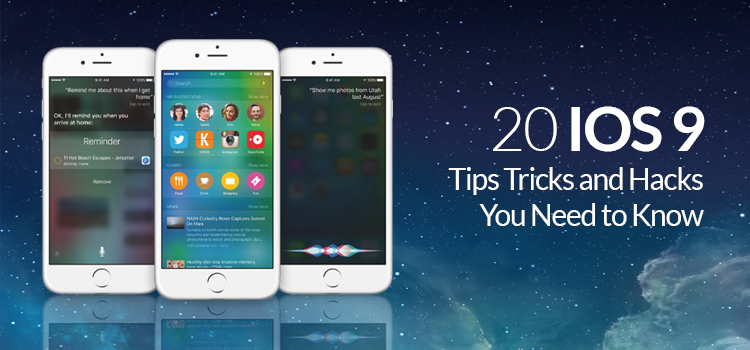 Upgraded to iOS 9? Great stuff – now it's time to make the most of it. No messing, just 20 effortless tips to help you get the best out of your Apple device. Let's get stuck in…
1. Reduce the blue wavelength of light in the screen and make the display less harsh on your eyes. Ideal if you use your phone before going to sleep. Just go to Settings > Display & Brightness > Night Shift and set the timing to help you get a better night's kip.
2. Force press the Settings icon on the home screen of your iPhone 6, 6S Plus or SE and enjoy new shortcuts to Battery, Bluetooth and Wi-Fi settings.
3. If you're upgrading from iOS 8 with an existing four-digit passcode, go to Settings > Touch ID & Passcode > Change Passcode and enter a new, safer six-digit passcode.
4. Long press the left side of the display to bring up currently running apps.
5. Let Siri do the maths for you. Siri can add, subtract, divide and multiply, all you need to do is ask.
6. Hold your finger on a previously taken picture and watch a live motion GIF-like version of it. It's all part of iOS' new Live Photos feature.
7. To delete images in bulk, click select and drag your finger across the screen, marking any images that you'd like to get rid of with a blue tick.
8. Let Apple read your messages so you don't have to: go to Settings > General > Accessibility > Speech and toggle Speech Selection to ON. From now on, just long press a message bubble to bring up the 'Speak' option.
9. Quickly add songs to playlists or create new playlists by tapping on the three dots at the bottom of the screen and selecting 'Add to a Playlist' when listening to song in the Music app.
10. Save your data, make calls over Wi-Fi. Go to Settings > Phone and turn on 'Wi-Fi Calling'.
11. Swipe right on your home screen to bring up the leftmost screen and 'Siri Suggestions' – a collection of suggested apps based on your most used content including contacts, apps and news.
12. Quickly send content and to other iOS-user contacts using AirDrop. Swipe up from the bottom of your screen to open up the Control Center. Tap AirDrop and select whether you'd like to make your device available to 'Contacts Only' or 'Everyone'. Now you'll be able to share content from Safari, Contacts, Photos and more via the 'Share' button or icon.
13. Get reminders on important tasks by asking Siri to 'Remind me about this later'. This works in Messages, Maps, Notes, Mail and other apps.
14. Put your phone facedown to save battery life. The iPhone will use its light and proximity sensors to prevent the screen from lighting up when notifications are received.
15. Change the capitalisation of letters on the keyboard when you press the shift key by going to Settings > General > Accessibility > Keyboard and toggle 'Show Lowercase Keys' to ON.
16. Get today's weather forecast by pulling down from the middle of the homescreen and typing 'weather' in the Spotlight search bar.
17. Plug in your headphones and automatically see the last audio app used on the lock screen. Swipe up to start using the app. This feature is location specific too, so if you listen to Apple Music at home and audio books at home, the screen will display an app to suit.
18. Access Apple Pay by double-tapping the home button on devices with Touch ID. Go to Settings > Wallet & Apple Pay and toggle 'Double-Click Home Button' to ON.
19. When watching a video on your iPad Pro, iPad mini 2, iPad Air or later, click on the picture-in-picture icon to reduce the size of the player and keep the video playing while you crack on with other tasks.
20. Peek at a link without leaving an app. Just press on it. Hold that press to open it fully.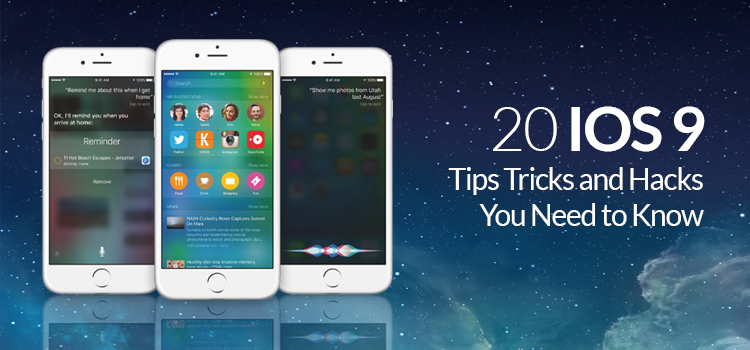 Upgraded to iOS 9? Great stuff – now it's time to make the most of it. No messing, just 20 effortless tips to help you get the best out of your Apple device. Let's get stuck in…
1. Reduce the blue wavelength of light in the screen and make the display less harsh on your eyes. Ideal if you use your phone before going to sleep. J