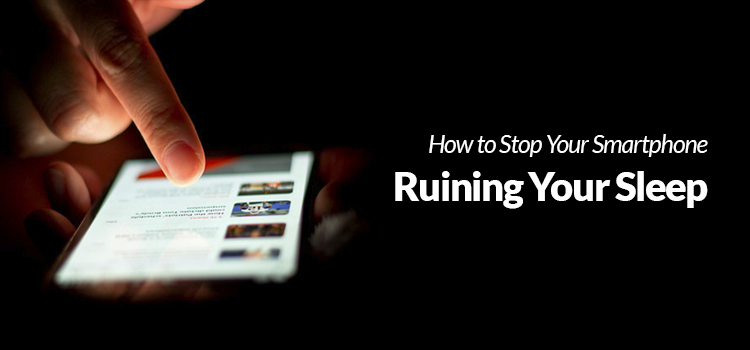 It's 11pm; you've had a busy day. You should have probably gone to bed earlier, but you were busy watching Netflix or reading or scrolling through social media on your smartphone. It's getting late now, though, and you know you have to go to bed, otherwise you'll be tired in the morning.
So you go to bed because you know you have to, but there's a problem: you can't sleep – you're not sleepy enough. If you're not sleepy you might aswell have a quick check on Facebook, right?
Uh oh, it's 1am and you're even more awake than you were two hours ago. Now your too stressed about not sleeping, to actually sleep. It's a mess.
You finally drop off for what seems like two minutes before the alarm starts ringing – you've have a terrible night.
You've been there, right? We all have.
It's a daily scenario for smartphone users.
Smartphones are brilliant for many, many things, but helping you sleep isn't one of them.
It's all to do with the blue light that they emit. Cells behind the eyeballs pick up the blue light and tell the brain that's it's morning (which it will be soon if you don't hurry up and get some sleep!) Blue light supresses melatonin levels, which – without the interference of electronic devices – would rise in anticipation of sleep.
According to a study published in the BMJ Open, people that spend more than four hours a day looking at screens had a 49 per cent greater risk of taking longer than an hour to sleep. Those same people were also three-and-a-half times more likely to sleep for less than five hours a night.
It's not just smartphones that emit this blue light, tablets, computers and TVs do too – they're all part of the problem.
Here's a great video by Reactions explaining the science behind the relationshop of using a smartphone and rubbish sleep:
It's not just the tiredness you need to worry about when you huddle over your smartphone in bed at night, there are more serious health problems, as demonstrated in this infographic by Tech Insider: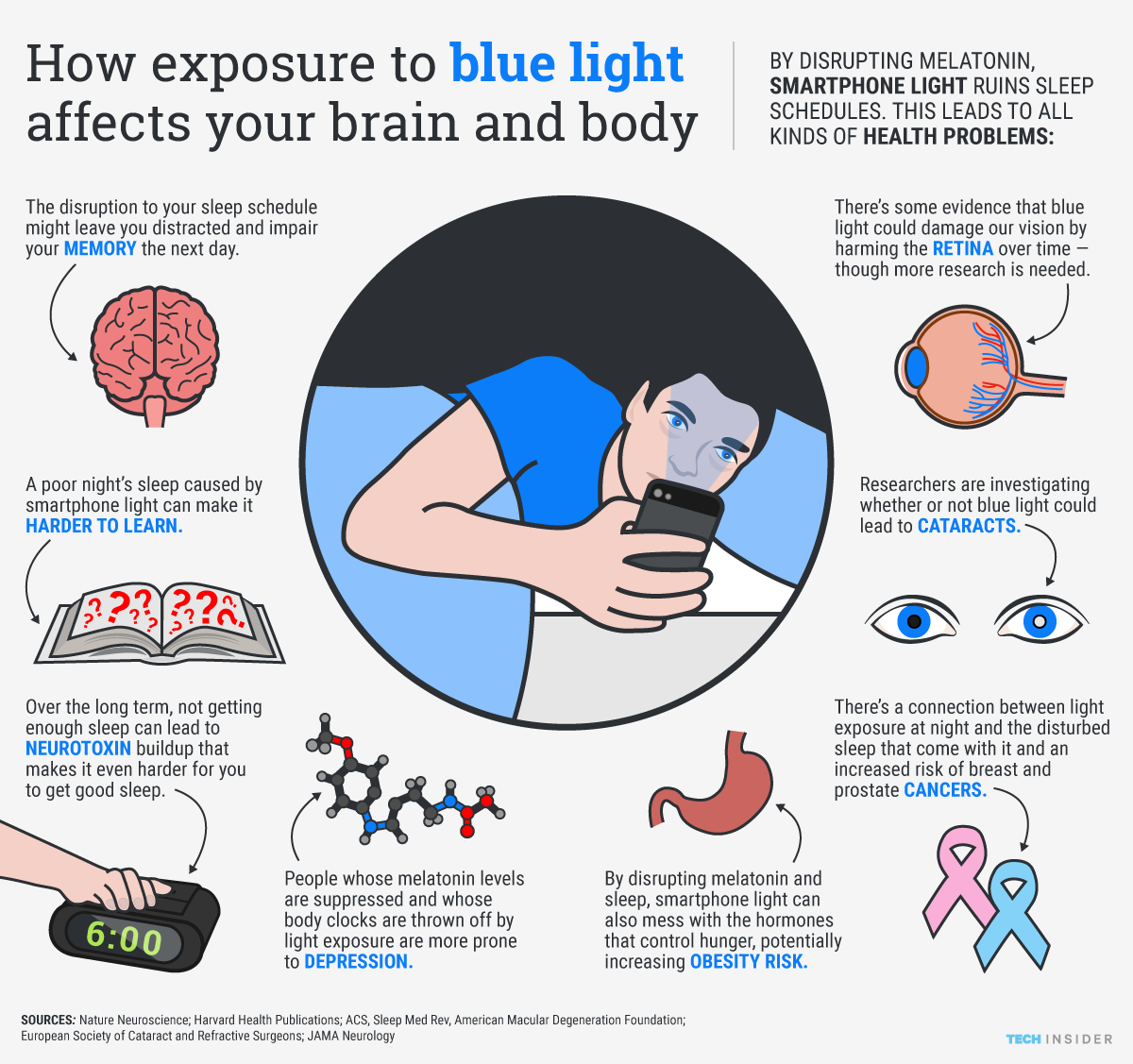 Of course, staying off your smartphone at night is much easier said than done. All it takes is one Whatsapp message or social media notification as you rest your head on the pillow to prompt you to pick up your phone – the temptation is almost impossible to resist.
So what can you do? Is there a way to swipe through your phone at night and still get a decent night's kip?
As it happens, there is.
Before we get into the apps and features that can be used to improve sleep, it's worth bearing in mind that the body doesn't start producing melatonin until about two hours before our normal bedtime. So, if usually go to bed at 11pm, stop using your smartphone or tablet at 9pm and your sleeping pattern shouldn't be affected. But two hours is an insanely long time to go without checking your phone, so here's the apps you need:
Android
If you're an Android user, Twilight is the go-to app. Once installed on your phone, Twilight runs in the background, steadily adjusting the colour temperature of your device during the day to prevent harsh light affecting your sleep. Twilight adds a soft red filter to your phone screen, the intensity of which is adjusted automatically based on sunrise and sunset times. You can set the hours that you'd like the app to run and pause the filter whenever you like.  It's a great app that'll make a noticeable difference to your sleep.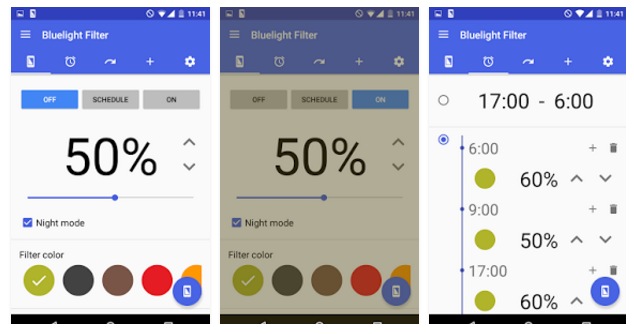 Alternatively, there is Blue Light Filter for Eye Care, which does exactly as it name suggests. This app can be turned on or off with the tap of a button and offers seven different filter colours that can be adjusted in opacity to suit. It's not as intuitive as Twilight, but it is less battery intensive.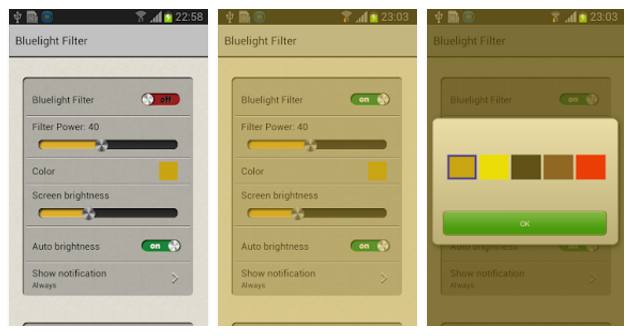 Finally, there is Blue Light Filter, the least popular of the recommended blue light-blocking trio, but still perfectly capable, and free! Blue Light Filter offers a choice of five different colour filters and provides a notification in the status bar so you can easily turn the filter on and off. Like Blue Light Filter for Eye Care, this app is lightweight and stable. It also works on older versions of Android.
Shout outs to CF.lumen and Bluelight Filter- Night Mode too, both also useful apps in their own right.
iOS
On iOS 9.3 iPhone users have a blue light-tackling feature built right in to the OS. It's called Night Shift and uses your device's clock and geolocation to determine when it's sunset, shifting the colour temperature accordingly to protect your eyes and aid your sleep. When morning comes, settings return to normal.
To activate Night Shift to go Settings > Display & Brightness and toggle Night Shift to On. Within the Night Shift settings you can manually turn on the feature, set the time and select the filter strength. It's simple – once you get used to it – incredibly effective.
Windows Phone
Unfortunately, there is no dedicated blue light filter app for Windows Phone. There is, however, the App Screen Filter – Bluelight Block APK file that can be downloaded (for free) and sideloaded onto your device. The app isn't anything special, but it gets the job done, with five different filter colours and simple settings.
Get the app from here for free and follow the steps to install. If you're unsure how to go about sideloading apps on your Windows Phone, Windows Phone Hub has published this simple guide.
Looking for a blue light filter for your PC? Check out f.lux (Windows) or RedShift (Linux). Both are free.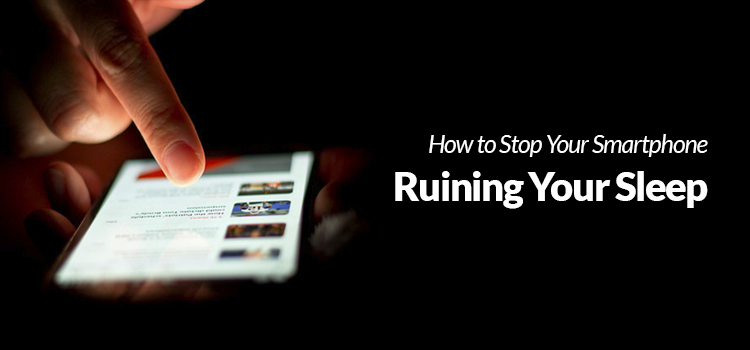 It's 11pm; you've had a busy day. You should have probably gone to bed earlier, but you were busy watching Netflix or reading or scrolling through social media on your smartphone. It's getting late now, though, and you know you have to go to bed, otherwise you'll be tired in the morning.
So you go